Man 'saw murder accused Malcolm Webster at crash scene'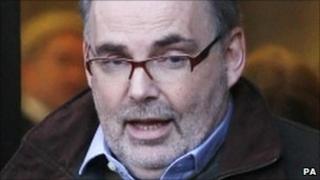 A man has told a murder trial that he saw the accused near the spot in Aberdeenshire where his wife died, 11 days before the fatal crash.
Ian Hardie was giving evidence at the trial of Malcolm Webster, from Surrey, who denies killing Claire Morris in 1994 by drugging her, crashing their car and setting it alight.
Mr Hardie said he recognised the 51-year-old from TV coverage of the trial.
He said he recalled seeing Mr Webster that day because it was his birthday.
Mr Webster is accused of murdering his first wife, 32-year-old Ms Morris from Oldmeldrum, by drugging her with Temazepam, crashing his car on the Auchenhuive to Tarves Road on 27 or 28 May and setting it on fire.
He also denies trying to kill his second wife, Felicity Drumm, in New Zealand in 1999, to cash in on their life insurance.
Mr Hardie told the High Court in Glasgow he saw Mr Webster in a field across from where the crash happened on 17 May 1994.
The medical sales representative from Glasgow said he had seen Simone Banerjee, who he knew through work, during television coverage of the case.
Mr Webster is accused of attempting to bigamously marry Ms Banarjee, from Oban in Argyll, to gain access to her estate - a charge he denies.
Mr Hardie told the jury that as he watched the reports, he realised he had seen the man featured in the footage somewhere before.
The court heard work commitments meant it was not until two weeks later that Mr Hardie checked the internet and saw pictures of Mr Webster.
The witness said: "I saw the gentleman's picture on the internet and I remembered. I'd met him before."
He said he recalled the encounter because it was his birthday and it was snowing.
He identified Mr Webster in court as the man he saw that day and described him as about six feet tall, with a rugby player's physique and an educated English accent.
Mr Hardie said: "He was just standing in the field as I walked down.
"He was looking towards the woods across the road."
Prosecutor Derek Ogg QC asked him: "You saw him in Woodside field looking towards exactly where the car crashed about two weeks later?" Mr Hardie replied: "Yes."
'Out walking'
The former dairy manager said that at the time he assumed Mr Webster was from the Ministry of Agriculture or an animal health organisation and was looking at cows in the field.
The witness told the court that there was also a bull in the field and he was worried it might gore Mr Webster to death.
He said: "I asked him what he was doing. He said he was out walking."
Mr Hardie said Mr Webster walked towards Tarves and told the court he saw a car parked further up the road, but did not know what make or model it was.
Under cross-examination by defence QC Edgar Prais, Mr Hardie was asked whether he had told farm owner Arthur Simmers about the man he saw, and he said he could not remember.
Mr Prais will continue his cross-examination on Tuesday.