Review of Aberdeen parking charges under way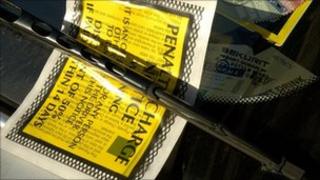 A review of parking charges in Aberdeen is under way, amid "confusion" over the current arrangements.
Concerns have been raised about the system in Golden Square, which is used by shoppers and concert goers.
Aberdeen Central MSP Lewis MacDonald described the fees as "ridiculous", and said many Music Hall spectators have had to leave halfway through performances to pay for another ticket.
Councillors will discuss the issue next week.
A spokesman for the city council said up to 20 different aspects of parking charges were under consideration, including the system in Golden Square, where fees change after 2000 GMT.
He admitted there had been some confusion over the current system but said fines had not increased since the Golden Square arrangements changed about a year ago.
'Bit simpler'
Councillor Kate Dean, convener of the council's enterprise, planning and infrastructure committee, said the current set up seemed to be too complicated.
She added: "I think it needs a look at.
"Obviously we've tried this and people have found it very difficult to understand so I think it's our duty now to look at the whole system to see if we can come up with something that's a bit simpler."
However, she said despite the review, fines issued under the current system would usually be upheld.
Councillor Dean added: "Obviously, the system is there at the moment - we need to uphold whatever fines are issued if people are not managing to use the system correctly.
"I think that anybody who looked at the signage that's there and stuck by the terms of the signage has no problem.
"But if anybody has difficulty I would ask them to write in and it will be considered on its own merits."