Woman saw car 'fill her windscreen' during fatal crash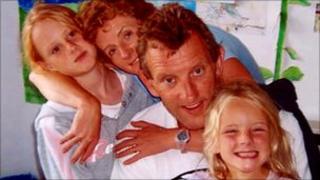 A woman who described seeing a car "fill her windscreen" during a fatal crash, has broken down while giving evidence at a fatal accident inquiry.
Paramedics took Isabell McLachlan away after she was questioned about the crash and the injuries she suffered alongside her husband, who was driving.
Ann Copeland, 45, and daughters Ciara, seven, and Niamh, 10, from Johnshaven, died in the crash in January 2008.
They had been on their way to school on the A92 in Aberdeenshire.
Mrs McLachlan told Stonehaven Sheriff Court: "I wasn't actually paying much attention, my mind was on other things and the next thing our car crashed with another car.
"The first thing I knew of it I was seeing part of this other car filling our windscreen. I only saw it a slight second before the impact."
The witness broke down as fiscal depute Tom Bowman questioned her further.
She said: "It was a very severe collision. I felt the impact."
Traction control
The court also heard from Carol Grant, 46, who had stopped at the scene to help a friend who had skidded off the road minutes before the crash.
She said her Land Rover's traction control had switched on as she passed the bend her friend had lost control on.
Mrs Grant's friend Caroline Smith described how she had lost control of her car moments before witnessing the fatal crash.
Mrs Smith said her car "glided across" a slippery road surface.
While stopped at the side of the road she saw a car spin before another vehicle collided with it.
Police have previously said that a spill of lubricating oil was a "significant factor" in the accident between Inverbervie and Low North Water Bridge.
Mrs Smith, 44, told the inquiry in Stonehaven Sheriff Court: "My car just glided across the road.
"It wasn't even like ice, it was more slippy than that."
She said she was speaking to Mrs Grant when the fatal crash happened.
Mrs Smith said: "I was telling her there was something on the road, then I saw another car come around the corner and spin out of control then another car collided with it."
Film of grease
Teacher Ailsa Duncan, 26, told the inquiry that she skidded onto the wrong side of the road on the same morning of the accident.
She said: "If another car had been there there would have been an accident. My heart jumped into my mouth."
Ms Duncan also reported a film of grease appearing on her windscreen.
Ahead of the inquiry, Mrs Copeland's husband Barry said he hoped it would help to stop others dying in similar accidents.
Mr Copeland told BBC Scotland: "I'm hoping really to find out how the fluid came to be all over the road and what can be done to reduce the chances of this happening again.
"You cannot eliminate these things completely, but this seems to happen far too often and some measures could be introduced to reduce these spillages."
At the time of the accident, Mrs Copeland was taking her two daughters to school.
'Soul mate'
Of his children, Mr Copeland said: "I really miss their company and I am sad I won't see them grow old.
"I was privileged to have had 15 years of my life with my wife and children.
"Ever since it happened I've tried to conduct myself in the way they would have wished me to."
He added: "Ann was my true companion and soul mate.
"The children were great, full of life, full of spirit, they had a sense of adventure, they would get out there and do things.
"If their deaths could at least result in less chance of other people meeting the same fate, then I will be happy."