New shrimp named after University of Aberdeen scientist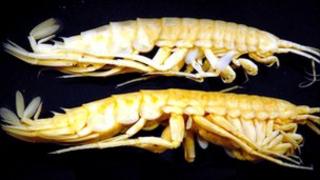 A new species of shrimp found several miles below the ocean has been named after the University of Aberdeen scientist who made the discovery.
The shrimp has been named Princaxelia Jamiesoni in honour of Dr Alan Jamieson.
The creature, which is white and about 6cm long, was discovered at the bottom of the north west Pacific Ocean.
Dr Jamieson said: "It is another example of the extraordinary creatures that inhabit the most extreme depths."
He was on a research mission, in conjunction with colleagues based in Toyko, when the shrimp were caught on camera.
Dr Jamieson said: "We caught lots of the usual animals. However, in amongst our haul were these long white creatures which no-one knew anything about."
He said international experts then established it was a new species.
Dr Jamieson said: "It is an extraordinary creature with a long elongated body thought to facilitate swimming over great distances.
"Yet it is extremely manoeuvrable at short ranges, capable of fast predatory attacks.
"To have this named after me is a great honour, both for me and my family."