Murder accused gave differing accounts of wife's death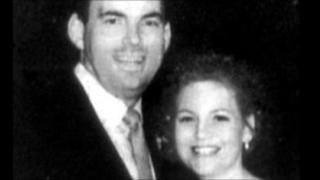 A man accused of murdering his wife gave different accounts of how she died to subsequent girlfriends, a court has heard.
Malcolm Webster is alleged to have told one woman has wife died in a car crash when he fell asleep at the wheel.
However, the High Court in Glasgow heard he told another woman the crash happened after he swerved to avoid a motorbike.
Mr Webster, 51, denies murdering Claire Morris in Aberdeenshire in 1994.
He is accused of drugging her, crashing the car she was in and then setting fire to it to gain insurance money.
Mr Webster's former partner Brenda Grant, 49, flew to Glasgow from Kansas City, Missouri, to give evidence at the trial.
Prosecutor Derek Ogg QC asked her: "Did he ever discuss with you the circumstances of the death of his first wife Claire?"
She replied: "I understand it was a car crash and she didn't survive. I thought he had possibly fallen asleep. His feet were burnt from it. I didn't probe a lot. He would get very emotional."
Mr Ogg then asked: "Did he say anything about the cause of the accident?"
Ms Grant told the jury: "I recall him saying he'd fallen asleep at the wheel."
She added: "He got extremely emotional any time he talked about Claire."
In evidence, Ms Grant said she first met Mr Webster in August 1995 and by autumn 1996 was in an intimate relationship with him.
However, their relationship ended, and he went on to marry New Zealander Felicity Drumm.
The court was told that despite their relationship coming to an end, Ms Grant and Mr Webster began sending each other e-mails in 2001.
The court heard that Mr Webster told her he was divorced and in February 2006 the pair went to Paris for a romantic trip.
When asked if she had received some shocking news she replied: "Just before I met him in Paris he told me he had chronic lymphatic leukaemia."
'Very sickly'
She was asked if he told her he had chemotherapy.
"Yes and he said his spleen had been removed", she said.
Ms Grant described Mr Webster during the Paris trip as looking like "someone who had been through chemo. His head was shaved and [he] acted very sickly. He acted very weak."
Earlier the High Court heard how Mr Webster took another woman to visit his dead wife's grave.
Catharine Brown, 45, said she visited Malcolm Webster in Ballater, Aberdeenshire, where the cemetery was, and that they spent the weekend in a hotel together.
Ms Brown said Mr Webster told her his last recollection of the crash in which his wife died, was his wife's screams.
She said the accused had said he and his first wife Claire Morris were returning from a wedding and that she was asleep in her seat when the crash happened.
He said he had swerved to avoid a drunk motorcyclist who was driving towards them on their side of the road, and that their car hit a tree.
She told the court he said: "I tried to get Claire out of the car but her legs were stuck. The last thing I remember before I was unconscious is the sound of her screaming."
Ms Brown said Mr Webster told her he had eventually managed to scramble free of the wreckage.
Prosecutor Mr Ogg then asked: "Did he say anything about a motorcyclist?"
She replied: "He said he didn't want him to be prosecuted. I think he possibly felt the motorcyclist was drunk, but I didn't know if I've heard that elsewhere."
Mr Webster stands accused of fraudulently obtaining more than £200,000 after cashing in insurance policies following the death of Claire Morris, who was from Oldmeldrum.
He is further charged with deliberately crashing his car in Auckland, New Zealand, in February 1999, in a bid to kill his second wife, Felicity Drumm, who was a passenger.
Mr Webster did so as part of an attempt to fraudulently obtain hundreds of thousands of pounds in separate insurance payouts, it is alleged.
It is also alleged he intended to bigamously marry Simone Banarjee, of Oban, Argyll, to gain access to her estate and told her he was terminally ill with leukaemia when he was actually in good health.
The second week of the trial, before Lord Bannatyne, continues. It is expected to last about four months.