Wife murder plots accused had 'out of control' spending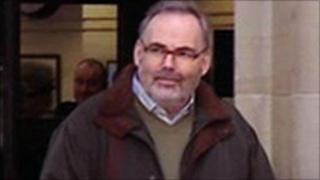 A man accused of murdering his wife and getting more than £200,000 from insurance policies had "out of control" spending habits, a court has heard.
Malcolm Webster, 51, denies murdering his first wife in Aberdeenshire in 1994 and trying to kill his second wife in New Zealand in 1999.
Former partner Simone Banarjee told the High Court in Glasgow she was in debt by the end of their relationship.
Mr Webster, from Guildford in Surrey, denies all the charges.
He is accused of drugging his first wife, Claire Morris, putting her in a car, driving it off the road and setting fire to it.
He also stands accused of fraudulently obtaining more than £200,000 after cashing in a series of insurance policies following the death of his first wife, who was from Oldmeldrum.
He is further charged with deliberately crashing his car in Auckland in February 1999, in a bid to kill his second wife, Felicity Drumm, who was a passenger.
Mr Webster did so as part of an attempt to fraudulently obtain hundreds of thousands of pounds in separate insurance payouts, it is alleged.
It is also alleged he intended to bigamously marry Ms Banarjee to gain access to her estate and told her he was terminally ill with leukaemia when he was actually in good health.
Giving evidence for a second day, Ms Banarjee, 41, told the court she believed Mr Webster's money had come from the sale of a flat he said he had inherited from his uncle in Brighton.
Asked by Derek Ogg QC, prosecuting, about Mr Webster's spending habits, she said "they were out of control".
She said: "I believed him to be on a similar salary to myself.
"I don't know if he had money from another source, but I don't know if I could have spent the same amount myself without being beyond my means.
"He must have had some money from somewhere."
'Major impact'
Ms Banarjee, who met Mr Webster in 2004 in Oban and started a relationship with him in 2005, said their relationship had left her "fragile".
She said: "It has had quite a major impact on my life.
"I have tried to move on, but obviously I haven't moved on as well as I thought. I'm a little fragile at times.
"I'm OK if I don't think about it."
Under cross-examination, defence counsel Edgar Prais QC told Ms Banarjee that she was a lovely and loveable woman.
He suggested that Mr Webster may have told lies to keep the two of them together and to get sympathy and attention from her.
'Loving relationships'
She replied: "It could be, but I couldn't say."
Mr Prais then added: "It turns out he was a bit of a love rat." She replied: "So I've heard."
In re-examination, Mr Ogg told Ms Banarjee that the court might hear from three women who "believed they were in a loving relationship" with Mr Webster at the time.
He asked if she was aware of this and she replied: "No I certainly was not."
The trial, before Lord Bannatyne, continues. It is expected to last about four months.