Man fined for Aberdeen rolling pin road rage attack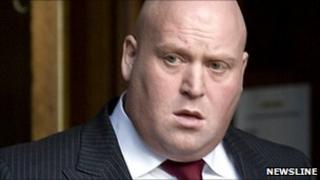 A businessman who attacked a fellow motorist with a rolling pin in a road rage attack in Aberdeen has been fined £10,000.
Kirk Harrison, 32, admitted assaulting Steven Gault, who had changed lanes on North Esplanade West last May.
Both men had ended up out of their cars in traffic.
Mr Gault needed stitches after the attack, Aberdeen Sheriff Court heard. Harrison was also given 250 hours of community service.
Witnesses said the accused began "raining blow after blow" on Mr Gault's head during the attack.
The victim believed he was struck about 10 times.
The attack ended when another motorist shouted at Harrison to stop.
Sheriff Kieran McLernan highlighted a "reckless disregard" for the safety of other road users.
He added there had been significant provocation from the other driver.
Defence agent Ian Woodward-Nutt said: "Clearly there was a gross piece of ill-judged thinking that caused him to get out of his vehicle with a rolling pin."
Harrison declined to comment as he left court.