Mass meeting over Aberdeen City Council job losses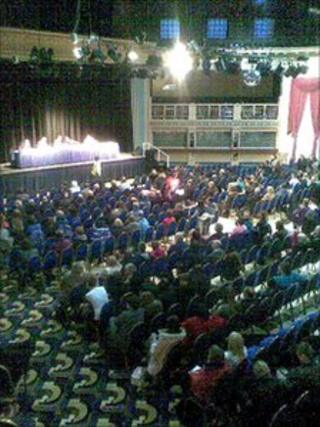 About 200 union members have attended a mass meeting over hundreds of planned job losses at Aberdeen City Council.
The meeting at the Beach Ballroom was called following the announcement last week that there were to be 900 compulsory redundancies.
However the SNP and Labour groups have since called for the assessment of 600 possible voluntary losses instead.
That left the Lib Dems - who are in coalition with the SNP - in the minority in supporting compulsory cuts.
Karen Davidson, of the union Unison, told BBC Scotland she hoped there could be proper negotiations.
The Lib Dem/SNP coalition could collapse over the job losses, it has been warned.
The council had announced compulsory job cuts after staff on more than £21,000 rejected a voluntary 5% pay cut.
SNP and Labour councillors then backed a recommendation to look at voluntary losses.
Lib Dem council leader John Stewart said of the disagreement: "That may mean we go our separate ways."
Mr Stewart said any additional resources should protect frontline jobs and not enhanced packages.
Industrial action
Kevin Stewart, the council's deputy leader and head of the SNP group, said he wanted the coalition to continue.
The budget for next year is expected to be set on 10 February.
There have already been threats of industrial action from unions.
The council earlier said there was "no alternative" to the cuts as it had to make budget savings of £120m over the next five years.