BBC's Fiona Armstrong opens River Dee's salmon season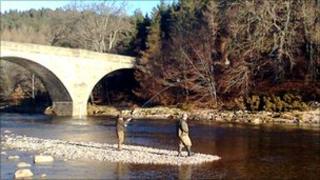 The 2011 salmon fishing season on the River Dee has been opened as figures show 2010's catches were the best since 1980.
Mark Bilsby, river director of the Dee District Salmon Fishery Board and River Dee Trust, said catches were boosted by good water levels and conditions.
He said: "The Dee enters 2011 in excellent spirits."
BBC presenter Fiona Armstrong, a keen angler, made the first cast at Potarch, and caught a 4lb salmon.
Mr Bilsby said: "The encouraging trend of better catches is welcome news for those that make their livelihood from the river and is testimony to their hard work and commitment, along with the support of anglers who continue to return fish to the water so that they carry on their journey and spawn.
"The Dee Board and River Dee Trust are by no means complacent and we are looking to the future with ambitious projects."
It was recently announced fisheries managers on four Scottish rivers had launched their own whiskies to help pay for salmon conservation measures.
A trial batch of Dee Dram in Aberdeenshire raised £35,000 last year.
This has now been made a permanent whisky, with similar drams being created for the Spey, Tay and Tweed.
Last year's Dee season was launched by comedian Billy Connolly, with broadcaster Clive Anderson doing the honours the year before.