John Swinney criticises Aberdeen council job cuts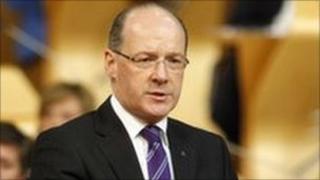 Finance Secretary John Swinney has criticised Aberdeen City Council's plans to introduce compulsory redundancies.
The council is planning to make 900 job cuts after staff on more than £21,000 rejected a voluntary 5% pay cut.
But Mr Swinney said the step was not required and called for dialogue between unions and the local authority.
Hundreds of workers at the council have been invited by their unions to attend a mass meeting this week.
The joint unions said Thursday's meeting would give workers the chance to work out a response to the council's "appalling decision".
The SNP/Lib Dem-led council said there was "no alternative" to the cuts as it had to make budget savings of £120m over the next five years.
'Strong signal'
But Mr Swinney told BBC Scotland's Politics Show: "I don't think that the steps that have been considered in Aberdeen City Council are required.
"We have given local government a very strong signal - a much better settlement than local government is getting south of the border.
"What I think is important is that there is dialogue with the trade unions and the local authority to try to find a constructive way through this process."
He added: "I am certainly taking forward very constructive discussions with local government in Scotland and the STUC to try to create a framework in which we can provide the means of avoiding compulsory redundancies by delivering flexibility in the workforce, and that strikes me as the best way to go forward."