Offshore firm Subocean goes into administration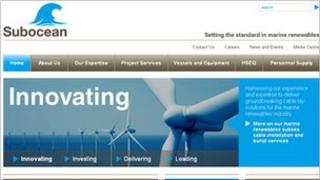 A major offshore cabling company in Aberdeen has been placed in administration and its assets sold on to an unnamed buyer.
Subocean, which lays cables for the renewable energy industry, has been struggling with cash flow difficulties.
After 10 days of intense negotiations, all its assets have been transferred to the multi-national company, which has insisted on anonymity.
The administrators said most of the firm's 380 staff would keep their jobs.
Bruce Cartwright, head of business recovery services at PwC in Scotland and joint administrator, said: "Subocean operate in what is still an emerging and immature market, and over recent weeks and months, the directors have worked tirelessly to find a solvent solution that would protect creditors and jobs.
"Unfortunately it became clear that this strategic approach was no longer feasible and as a result the directors requested the appointment of administrators."
Mr Cartwright said it was hoped the deal that had been reached would preserve the business and the majority of its workforce.
"As such it is a critical step in the ongoing development of the renewables industry in Scotland," he added.
Subocean was established in 2005 and made sales of more than £65m last year, compared with £1.7m in 2006, but it was forced into negotiations on a sell-off after hitting cash flow problems.