Jail for two brothers who stabbed a man in Stonehaven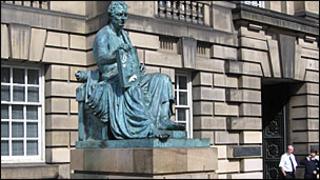 Two brothers who stabbed a man after a row in a Stonehaven pizza shop have been jailed for almost 10 years.
Christopher Mackie, 27, was jailed for five years and three months, and Ricky Mackie, 19, was sentenced to four-and-a-half years.
The Aberdeen pair admitted assaulting David May, 35, to the danger of his life in last September's attack.
At the High Court in Edinburgh, Lord Pentland said there had been a high level of violence.
The attacked happened at Stonehaven's Brickfield Terrace on 5 September.
The court heard that Mr May thought he was going to die after finding himself covered in blood.
Doctors who treated the victim in hospital said none of the wounds to his neck, arm, back and abdomen were life-threatening, but that this was just a matter of luck.
Speaking to the brothers, the judge said: "This offence was preceded by some premeditation on your part and demonstrated a high level of violence and reckless disregard for the possible consequences."
Lord Pentland also made an order keeping both men under supervision for two years after the end of their sentences.