Search for missing Shetland prawn boat skipper resumes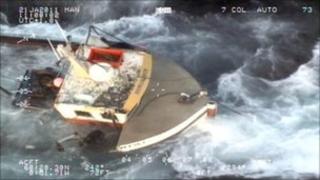 Rescue teams have resumed their search for the one-man crew of a fishing boat which was found on rocks off Shetland.
Neil Smith from Shetland, skipper of The Bread Winner, was reported overdue at Lerwick harbour at about 2100 GMT on Thursday.
A helicopter crew found the 10-metre prawn boat in the Whalsay area shortly before 1000 GMT on Friday.
However, there was no sign of Mr Smith, who is an experienced fisherman in his 50s.
When the boat was found, it had partially sunk. Its life raft and life jacket were also found nearby.
Alex Wylie, duty watch manager at Shetland Maritime Rescue Co-ordination Centre, said: "The Bread Winner was located semi-submerged and badly damaged on rocks.
"Unfortunately, no sign of the single occupant could be found. The search has been ongoing all day.
"We would like to remind fishermen how important it is to always wear a personal flotation device on deck."
Rescue crews have been focussing their search on a 250 sq mile area around Score Head on the northern tip of the island of Bressay.