Road Sense wins Aberdeen bypass legal cost victory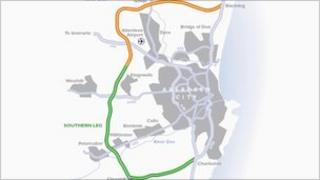 Campaigners against Aberdeen's controversial £400m bypass have secured a court victory.
A judge has limited the contribution campaign group Road Sense could be asked to pay to Scottish government lawyers if the case goes against them.
The group has launched a legal challenge against the bypass project and a hearing is due next month.
Group chairman William Walton said Road Sense was "delighted" at the ruling, which limits their costs to £40,000.
The £400m road was given the go-ahead by Scottish ministers in December 2009 following a lengthy public inquiry.
The bypass is aimed at creating a fast link to the north, west and south of Aberdeen.
Road Sense is challenging the lawfulness of the decision.
The group has already spent almost £250,000 on its campaign opposing the bypass plans which has been largely funded by donations from private individuals.
Financial ruin
The campaigners had argued at the Court of Session in Edinburgh that rules governing public participation in such decision-making gave them the right to pursue their objections without risking financial ruin.
Road Sense claimed to have £12,600 in the bank and another £72,000 in promised donations and pledges to help with legal costs.
Opponents have criticised the cost and environmental impact of the project.
The Aberdeen City and Shire's Strategic Development Planning Authority previously called for a swift conclusion to the legal action.
The SDPA said other improvements to the roads network were dependent on the bypass moving ahead.