Murder charge mother Theresa Riggi case delayed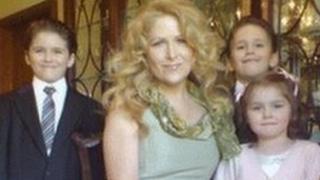 A woman accused of murdering her three children has had a High Court appearance delayed.
Theresa Riggi, 47, is accused of killing her eight-year-old twin sons, Austin and Luke and their sister, Cecilia, who was five.
The children were found dead in Edinburgh on 4 August after moving to the city from Skene in Aberdeenshire.
Mrs Riggi was due to appear at the High Court in Edinburgh on Friday. She is now expected to appear on 4 February.
Mrs Riggi allegedly attacked the children with a knife. She is also accused of causing a gas explosion.
The bodies of the children were found in a flat in Edinburgh's Slateford Road.
A funeral service was later held in Aberdeen.
Their father, Pasquale Riggi had earlier described them as a "beautiful blessing".