Whisky to aid salmon conservation on Scottish rivers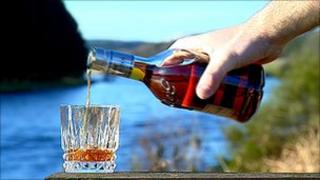 Fisheries managers on four Scottish rivers have launched their own whiskies to help pay for salmon conservation measures.
A trial batch of Dee Dram in Aberdeenshire raised £35,000 last year.
That has now been made a permanent whisky, with similar drams being created for the Spey, Tay and Tweed.
Thousands of bottles of the whiskies are being produced by The Dalmore Distillery, in Alness, Ross-shire, and they will sell for about £40 a bottle.
Managers at the Dee Salmon Fisheries Board said there are many miles of tributaries which need to be unblocked, and the money being raised will help.
They have started work such as removing dams and obstructions.