Human remains found in burnt-out Aberdeenshire cottage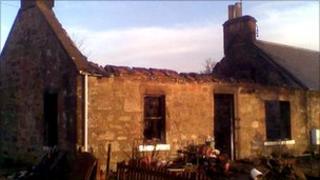 Police searching for the owner of a burnt-out Aberdeenshire cottage have discovered what they believe to be human remains inside the property.
The one-storey house outside Fettercairn, which belongs to 78-year-old Jane Murray, was badly damaged in a fire which broke out just before midnight on Wednesday.
Grampian Police said Ms Murray's family have been made aware of the discovery.
A spokesman said the remains had still to be identified.
Detectives said they had established that Ms Murray was an independent woman with a varied circle of friends.
The force said it wanted to hear from anyone who may know her, her routine and personal circumstances.
Det Insp Neil Cameron said: "We are aware that Jane may have had a close male friend, Greg or Craig, who was outwith the family circle.
"Despite our inquiries, I'm disappointed that we have not been able to trace this person and advise him of our inquiries."
Police said the cause of the fire was still being investigated, but there was no evidence to suggest any criminality.