Offshore inspections to increase, Chris Huhne says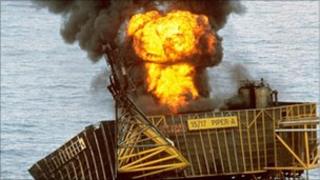 Safety inspections of North Sea oil and gas installations are to be almost doubled, in the wake of the Gulf of Mexico spill.
Energy Secretary Chris Huhne said the number of checks would rise from 80 to 150, after an earlier increase from 60.
The decision will help focus on deepwater drilling operations, and allow two inspectors rather than one on more complex projects.
Eleven workers died when BP's Deepwater Horizon rig exploded.
It saw millions of barrels of oil pour into the sea.
Mr Huhne said: "The UK's safety and environmental regime is one of the most robust in the world.
"But we are not complacent and more environmental inspections should provide further assurance that government and industry are alert and working hard to ensure that a spill doesn't happen in UK waters."
Last week, a committee of MPs opposed any moratorium on deepwater drilling for oil in the UK's seas, warning such a move would undermine the country's energy security.
The MPs did, however, raise concerns over how equipment would deal with spills in harsh conditions west of Shetland and called for site-specific plans.