Petition aimed at saving RAF Lossiemouth taking off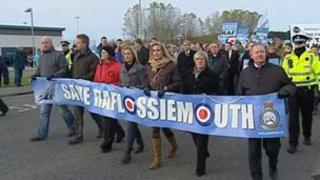 A "battle bus" is set to take a petition aimed at saving RAF Lossiemouth to Westminster.
Last year's defence review signalled the end of RAF Kinloss and left the future of the neighbouring Lossiemouth base, both in Moray, in doubt.
More than 33,000 people have signed the petition, which will head south with the bus on Monday evening.
Meanwhile, local business leaders are set to meet Enterprise Minister Jim Mather to discuss future challenges.
There have been recent reports that RAF Leuchars in Fife could close to allow RAF Lossiemouth in Moray to stay open.
However the Ministry of Defence has consistently described reports about decisions on specific closures as speculation.
It was announced that RAF Kinloss would shut after ministers cancelled orders for the new Nimrod MRA4 surveillance aircraft.
The Moray Task Force has been set up to fight the loss of MoD jobs in the area.
The petition "battle bus" will set off at about 1800 GMT on Monday, arriving in London at about 1000 GMT on Tuesday morning.
Ahead of the visit by Mr Mather, chief executive of Moray Chamber of Commerce Lesley Ann Parker said: "Businesses in Moray have been badly affected by the uncertainty surrounding the future of RAF Kinloss and Lossiemouth.
"We welcome the Scottish government's support for the campaign to save the RAF in Moray and we hope the minister's visit will impress upon him the important role the RAF plays in the regional economy."