West of Shetland 'needs deep water oil leak plans'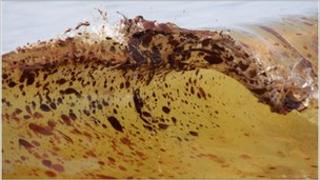 A major oil leak in the North Sea or west of Shetland would be difficult to clear up, it has been warned.
A committee of MPs has opposed any moratorium on deep water drilling for oil in the UK's seas.
The MPs did however raise concerns over how equipment would deal with spills in harsh conditions west of Shetland and called for site-specific plans.
The Energy and Climate Change Committee report comes in the wake of the Gulf of Mexico oil disaster.
Drilling in water up to 1,000m deep is taking place west of Shetland.
Conditions warning
The committee heard from ministers, outgoing BP chief executive Tony Hayward and UK oil industry leaders - who claimed no moratorium was needed as the UK regulatory regime was "very, very strong".
The report found that a moratorium on drilling west of Shetland would leave the UK more reliant on imports of oil and gas.
Committee chairman Tim Yeo said: "A moratorium on deep water drilling off the west coast of Shetland would undermine the UK's energy security and isn't necessary."
But he added: "The harsh and windy conditions in the North Sea would make an oil spill off the coast of Shetland very difficult to contain or clean up.
"Safety regulations on drilling in the UK are already tougher than they were in the Gulf of Mexico, but oil companies mustn't use that as an excuse for complacency."
The report said the government must ensure company plans for responding to an oil spill must be site-specific and any new systems for capping wells and containing a spill must be designed with the bad weather and cold, rough waters of the seas off Shetland in mind.
These conditions were said to be far more difficult than those experienced by teams working to tackle the spill in the Gulf of Mexico.
Devices call
The Shetland deep sea wells are more remote than the Deepwater Horizon rig and subject to major currents - although the rough seas could be more effective at dispersing some types of oil spill.
However, the surface temperature is much lower, which would significantly slow natural evaporation.
The MPs were also told that there was a limited supply of rigs to drill relief wells.
The committee urged the Health and Safety Executive to consider making devices designed to slice through drill pipes and seal them a requirement on all UK deep water rigs.
Environmental campaign group Greenpeace's executive director John Sauven said: "This report lists all the reasons why a ban on deep sea drilling makes sense and then ignores its own findings.
"The oil companies have no idea how they would deal with a major spill off the coast of the UK but apparently we're supposed to trust them until they come up with an adequate plan.
"We need to go beyond oil. Tough new rules to boost the efficiency of our vehicles could save over a million barrels of oil every day, but ministers are too scared of industry lobbyists to show the courage that's needed."
Last September, Greenpeace blockaded a drilling ship 100 miles off Shetland for several days.
The explosion on the Deepwater Horizon rig 50 miles off the Louisiana coast killed 11 workers and left millions of barrels of oil pouring into the sea.