Temperatures plummet to -20C in north east of Scotland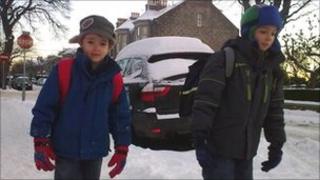 Temperatures in the north east of Scotland dropped as low as -20C overnight to cause a 10th consecutive day of winter disruption.
Braemar recorded one of the UK's overnight lows of -20.1C.
Schools in Aberdeenshire and Aberdeen have again been affected, and train services have also been badly disrupted.
Meanwhile, dozens of farm buildings across the north east have collapsed because of the weight of the snow.
In Aberdeenshire, 173 schools were closed or partially closed, with 35 in Aberdeen similarly affected.
However, the ongoing winter weather means a busy weekend is in prospect for Grampian region's ski slopes, as long as access roads remain open.
The snow arrived in the north east of Scotland last Wednesday.
Many schools have now been closed for a seventh day as a result.