Aberdeen City Council vows to help the disadvantaged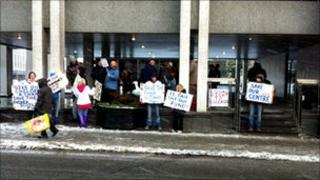 Councillors in Aberdeen have vowed to do what they can to protect vital services for disadvantaged people in the city.
Community groups threatened with losing their grants lobbied members of the finance committee on Thursday.
Council leader John Stewart issued a statement which said some cuts were "inevitable" but he would seek to protect those most in need.
A final decision could be taken later in the month.
Music classes in city schools, public toilets and the city's public parks and gardens could also be axed.