Protest held over Aberdeen music service fears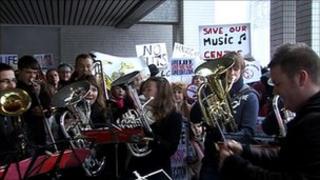 A protest has been held outside Aberdeen City Council in an attempt to force the local authority to abandon cuts to the instrumental music service.
The council is considering scrapping the music service.
About 200 people, including children with instruments, voiced their opposition to the proposals.
A protest group called Life, Music, Education (LME) hopes to block the proposals, claiming such a move would badly affect education in the city.