Mark Simpson guilty of 'wicked' murder of Aberdeen baby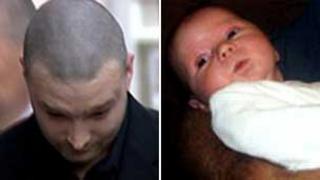 A man has been found guilty of the "wicked" murder of a six-week-old baby girl in Aberdeen.
Mark Simpson, 29, denied murdering his then-girlfriend's daughter Alexis Matheson by assaulting her in 2007.
The jury returned a unanimous guilty verdict at the High Court in Aberdeen following a six-week trial.
Lord Uist jailed Simpson for life, for a minimum of 20 years, and called for a fatal accident inquiry due to medical care concerns he had.
A Crown Office spokesman later confirmed: "Crown Counsel have instructed that a fatal accident inquiry should be held into the death of Alexis Matheson. This follows the conviction of Mark Simpson today for her murder.
"No date has yet been set for the inquiry and we will continue to keep the families advised of the status of the case and any future developments."
The baby's mother, Ilona Sheach, said: "At first, when Alexis died, I didn't want to believe that anyone could do that sort of thing to a baby and I certainly didn't want to think Mark could - I wanted to believe it was a medical issue.
"Thankfully the jury saw through his lies and convicted him.
"I now have to come to terms with the fact that he took Alexis's life from me."
Lord Uist, in his sentencing statement, said: "This crime did not consist of a single incident arising from a sudden loss of temper on your part but of a repeated course of violence directed at a wholly defenceless and vulnerable baby whom you should have been caring for and protecting.
"How you were able to act in such a wicked and abhorrent manner towards a helpless infant is beyond the understanding of all right-thinking people.
"You have also shown no remorse and even sought falsely to lay the blame for the injuries on the mother of baby Alexis.
"The pain and agony which baby Alexis must have suffered as a result of the injuries which you inflicted upon her are unthinkable."
In an additional statement, the judge expressed concern about the way in which baby Alexis was dealt with by the health service.
He said: "I wish to add that the evidence which I have heard in the course of this trial gives rise to serious concern on my part about the way in which baby Alexis was dealt with by the health service and whether her subsequent death could have been prevented, had signs of non-accidental injury been detected earlier.
"The training of GPs, and also health visitors, to detect signs of non-accidental injury may be a matter that requires further consideration."
An NHS Grampian spokesman: "NHS Grampian and the Woodside Medical Practice would like to extend their condolences to Alexis' family.
"We understand that Lord Uist has issued a statement that it is critical of perceived failings in the care given to Alexis.
"We will consider these comments very carefully. We are committed to improving the quality of services that patients receive and will fully embrace any learning from this tragic case."
Grampian Police Det Insp Richie Guild, who led the enquiry, said: "This verdict will not bring Alexis back but I hope it will now allow Ilona the opportunity to move on with her life after what she has been through."
It can now be revealed Simpson's computer, which had been seized as part of the murder inquiry, showed he had been sending sexually explicit messages to underage girls.
He is already serving a 14-month sentence in relation to that offence.
Evidence claim
The murder case began on 12 October.
The Crown had urged the jury of six men and eight women to convict Simpson for his "wicked recklessness".
But the defence argued there was no sufficient corroborating evidence to say Simpson - who turns 30 on Sunday - even assaulted the baby.
Simpson denied murdering Alexis by assaulting her between 18 November and 9 December 2007.
The charge stated he seized hold of her, shook her and compressed her chest, leaving her so severely injured that she died.
Simpson has claimed during the trial the baby's mother played a game called "fishy" where she lay on the floor and held Alexis above her.
He said Ms Sheach regularly shook the baby without supporting her head.
However, Ms Sheach said she would not have done anything to harm her child.