Brothers guilty of lost eye attack in Aberdeen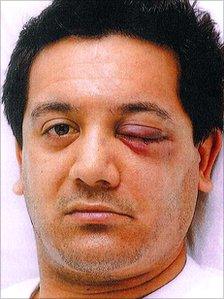 Two brothers have been convicted of a brutal attack in Aberdeen which led to a promising rugby player losing an eye.
Aaron Mackie, 19, and Christon Mackie, 21, assaulted New Zealander Aparangi Hemara, 27, in Union Street last year.
Mr Hemara, who has Scottish relations, had won two caps with the New Zealand Maoris and had hoped to play rugby for Scotland.
The brothers were found guilty at Livingston High Court, and sentence was deferred.
The men were convicted of repeatedly punching and kicking Mr Hemara to his severe injury, permanent disfigurement and permanent impairment in the incident last October.
Mr Hemara had been walking arm-in-arm with his fiancee Elizabeth Giles after celebrating the announcement of their engagement with friends in Aberdeen city centre.
Before the attack, Mr Hemara had not progressed to join New Zealand's national team, The All Blacks, which would have disqualified him from playing for another country.
He had hoped to continue playing high-level rugby and eventually bid for a place in the Scotland team, but the injury - which led to surgeons removing his eye - ruled that out.
Mr Hemara said after the case: "As you can imagine we have had an extremely tough year and are thankful this is all over so we can move on with our lives.
"No words can describe our ordeal but we are thankful for all of the support we have received.
"It must be said that without CCTV footage, the police and the help of the press we wouldn't have been able to bring anyone to justice for this."
Related Internet Links
The BBC is not responsible for the content of external sites.