Loss of RAF Kinloss Nimrods 'does pose risk'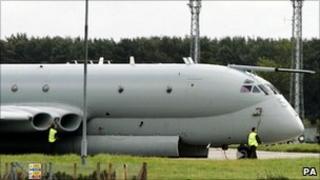 The loss of Nimrod reconnaissance planes from RAF Kinloss does pose a risk to the country's security, the head of the UK's armed forces has said.
General Sir David Richards said the loss of Nimrods was "a risk but not a gamble".
He told the Commons defence select committee the loss of some military capabilities could be managed.
The UK government announced in October it was cancelling the next generation of Nimrod reconnaissance aircraft.
The decision has placed the future of RAF Kinloss in doubt, and there are also concerns for RAF Lossiemouth if it loses its Tornado fleet to RAF Marham.
The Ministry of Defence has insisted no decision has been reached about Lossiemouth.
A task force has been set up in a bid to safeguard defence jobs in Moray as a result.