Oil and gas sector confidence remains positive overall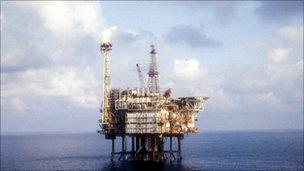 Confidence in the offshore oil and gas industry remains positive overall, but it has fallen in recent months, a leading survey has said.
Oil and Gas UK reported that the index fell five points to 57 between the second and third quarters of this year.
However, 50 is the point on the measure at which people are more positive than negative about the industry's outlook.
The most positive sentiment was in exploration and production, up three points to 61.
Most other segments of the market registered a fall in confidence, including supply chain companies, contractors and drilling and well services.
The quarterly survey of offshore industry opinion was taken ahead of the announcement of the latest exploration licences being awarded.
The UK government has refused to allow drilling in some areas while assessments are carried out of possible environmental impacts.
Brian Kinkead, the supply chain director for Oil and Gas UK, said: "It's important to note that while we continue to see quarter on quarter adjustments, the overall index remains in positive territory."
He said that participants in an industry fair last month showed 96% of those attending felt the same or greater optimism about business next year compared with this year, with 90% saying their workforce has increased or stayed stable this year.
Related Internet Links
The BBC is not responsible for the content of external sites.