Baby murder accused in 'disgusting slur' on mother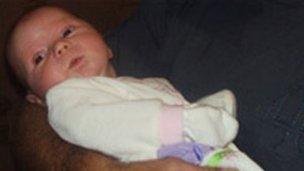 A man accused of murdering a baby has been accused of a "disgusting slur" by incriminating the girl's mother.
Mark Simpson, 29, denies murdering six-week-old Alexis Matheson by assaulting her in 2007.
He has told the High Court in Aberdeen her mother, Illona Sheach, could have hurt her.
Advocate depute Iain McSporran, prosecuting for the Crown, suggested Mr Simpson made up the "humdinger" to cover up a crime.
Mr Simpson has claimed his then-girlfriend Ms Sheach could have fatally injured Alexis by shaking her on a daily basis while playing a game.
Mr McSporran asked Mr Simpson - who is not Alexis's father - why he failed to tell police or doctors about the game.
He said: "At that point it was something I didn't really remember. I put it out of my mind at about that time because the way everything was implicated was that someone did this deliberately.
"I was not thinking of someone playing with the child that sort of way.
"I was thinking more of someone going out and doing harm."
Mr McSporran asked: "Mr Simpson, are you saying that Illona killed her baby?"
He replied: "I wouldn't be saying that. All I know is that I didn't."
Mr McSporran said: "You have made a disgusting slur about this mother."
He replied: "Not at all."
Mr Simpson denies murdering Alexis by assaulting her in Aberdeen between 8 November and 9 December 2007.
He allegedly seized hold of her, shook her and compressed her chest, leaving her so severely injured that she died.
The trial, which began last month, continues on Friday.
Related Internet Links
The BBC is not responsible for the content of external sites.