Flood families in Stonehaven still awaiting home return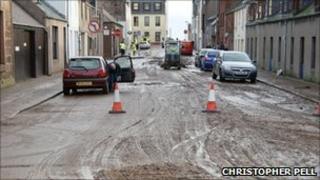 Several families have still to return to their homes exactly one year on from the devastating floods which swept the north and east of Scotland.
Hundreds of people in Stonehaven, Aberdeenshire, and the surrounding area were evacuated when rivers burst their banks following prolonged heavy rain.
At least three families in Stonehaven are still waiting for work to be completed on their damaged homes.
The community council blamed bad advice from builders and insurance companies.
Gary McLean and his wife Olga were among those families evacuated when the rains came on 1 November 2009. They are still living in rented accommodation but hope to return home in the next two weeks.
Mrs McLean said: "Everything is waiting, waiting, waiting for this to happen, waiting for that to happen - furniture, carpets."
Mr McLean added: "It has been a disaster. I would say it is very detrimental to your health and I wouldn't like it to happen again."
David Fleming from Stonehaven Community Council commented: "If you had asked me last November if people would still be out a year later, I would have thought 'no'.
"And the reason is primarily that they got bad advice from some of the professional people - professional builders, professional insurance companies who just make matters worse rather than better.
"It is a very specialised topic to dry out the buildings and there are all sorts of complications you don't think about. We need to get that better."
'No guarantees'
Aberdeenshire Council said work had been carried out in Stonehaven and Huntly - which was also badly affected by flooding - to clear river banks and water courses but added that only so much could be done - or afforded.
Council area manager Les Allan said: "There are no guarantees. Even with a flood protection scheme, it doesn't guarantee that there won't be a flood again that is bigger than the last one and could overtop any solution."
Meanwhile, some local businesses say they are still trying to recover from the floods one year on.
Stonehaven butcher Gregor Waite said the floods caused £300,000 worth of damage to the business.
He commented: "We are recovering from it but things are slow. But Stonehaven is getting busier and hopefully this Christmas we will be able to supply everybody with the turkeys that they missed out on last year."