New University of Aberdeen library 'topping out' held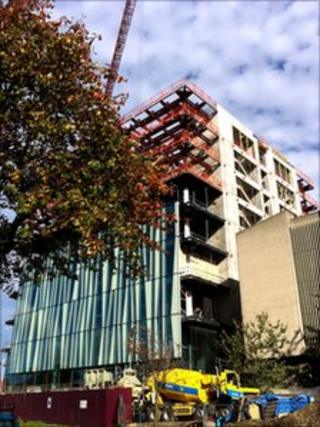 Construction of the new library of the University of Aberdeen has reached the top of the building.
A traditional "topping out" ceremony was held to mark the "milestone" in the £57m building's progress.
Construction began in August 2009, and the new building is due to open in September next year.
The building will replace the university's Queen Mother Library and house collections of historically-important books and archives.
Prof Ian Diamond, principal and vice-chancellor of the University of Aberdeen, said: "We are delighted to have reached this milestone.
"In a year's time the spot on which we are gathering will be a fully operational, environmentally sustainable working building, designed to provide the most modern learning environment for our students and staff, new educational and cultural opportunities for our local communities, a striking landmark for the Aberdeen skyline, and a resource for researchers across the world."