Red alert texts in Aberdeen to aid squirrel grey area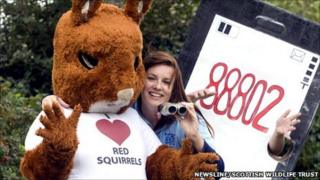 A pilot scheme to help squirrels by texting sightings has been launched in Aberdeen.
The aim is to collect data on squirrel distribution by encouraging the city's residents to report seeing squirrels by sending a text message.
The scheme is thought to be the first of its kind in the UK.
Sightings can be reported by texting RED or GREY, followed by the area, street or postcode where it was seen, and the person's name, to 88802.
It will running for two weeks as part of Red Squirrel Week.
'Text-A-Squirrel' was the brainchild of Hollie Walker, the North East Scotland project officer for Saving Scotland's Red Squirrels.
She said: "As far as we know, this is the first time a scheme like this has been used to collect records on the movements of wild animals.
"Most people carry a mobile phone when they are out and about in the city, so we hope that the ease of texting will encourage more people to report their sighting when they spot a red or grey squirrel."
She added: "We are keen to find out more areas where red squirrels are appearing in the city.
"Our efforts in Aberdeen to protect the city's remaining red squirrels and ensure that grey squirrels do not spread further north to jeopardise the red squirrels in the Highlands are essential to protecting the future of red squirrels in Scotland.
"We must act now to maintain a barrier between thriving red squirrel populations and the grey squirrels which out-compete our native species and are the main cause of the red squirrels decline.
"This will allow red squirrels to thrive and their numbers to expand."