Paralysed trampoline teacher back at school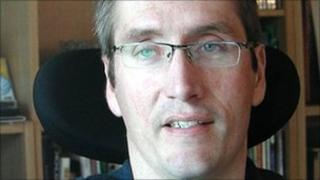 An Aberdeenshire teacher who was paralysed from the shoulders down in a trampoline accident has returned to school to take classes.
David Henderson, 36, fell while demonstrating exercises at the Gordon Schools in Huntly in 2007.
He had now returned, one day a week initially, in his motorised wheelchair.
Mr Henderson has also founded a church in a bid to stay positive in the wake of his ordeal, and help others at the same time.
The maths teacher had been showing pupils some trampoline manoeuvres in October 2007 when he over rotated, landed on his shoulders, rolled off, and could not feel his legs.
He received seven months of treatment in hospital before returning home.
'Make a difference'
He told BBC Scotland: "I have started lunchtime classes.
"That's going to continue, one day a week, and then up to two, to see how much I can cope with."
He has also started a church in Huntly, of which he is pastor, and he explained: "The church allows me to make a difference.
"My mind is into what I can do for others."
Pupils received counselling after the incident.