Viking Energy Shetland wind farm plan scaled back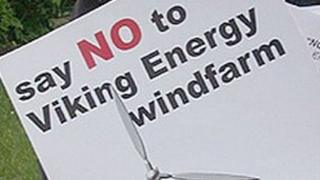 The firm behind controversial plans to build Scotland's biggest community wind farm in Shetland has scaled back its proposals.
Viking Energy's changes include 23 fewer turbines - down from 150 originally - and a reduction in the ground area that would be covered.
The firm said it had listened to the community and made changes to address concerns.
The project is a joint venture with Scottish and Southern Energy.
Hundreds of people signed a petition last year against the plans, arguing it was too big and would blight the landscape.
Scotland's Energy Minister Jim Mather will make the final decision on the planning application.
However the wind farm will only go ahead if a seabed cable connecting Shetland with the Scottish mainland, to export surplus power, also gets the green light.