Oil industry chaplain Reverend Andrew Jolly dies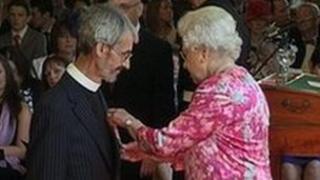 The chaplain who led memorials in the aftermath of the North Sea helicopter disaster last year has died after a long battle against cancer.
The Reverend Andrew Jolly, 54, chaplain for the UK's oil and gas industry, received an MBE earlier this year.
Mr Jolly conducted a special service in Aberdeen after the Super Puma crash which killed 16 men in April 2009 and also prayers on the first anniversary.
The Aberdeen Oil Industry Chaplaincy Trust expressed sadness at his death.
Mr Jolly, an Aberdeen-born married father-of-two, took up the offshore post in 2006 after many years as an Army and RAF chaplain, where he saw service in Iraq, Saudi Arabia, Northern Ireland and the Falkland Islands.
First Minister Alex Salmond said: "Andrew Jolly will be greatly missed. We hope that the high regard in which Andrew was held across the community will be of comfort to his friends and family at this sad time."
The chairman and trustees of the Aberdeen Oil Industry Chaplaincy Trust said in a statement: "His deep respect for and passionate commitment to his unique ministry were apparent to all.
"A man of great energy and focus, Andrew quickly became a familiar and trusted face both on and offshore, and worked tirelessly to consolidate and strengthen the chaplaincy as an integral part of the industry.
"As a former military chaplain, Andrew was well accustomed to the pastoral needs of people working in tough environments.
"He was a frequent visitor to the offshore oil and gas installations, which he considered to be his role's core and where he would often spend several days at a time with the crew."
The statement added: "Andrew became the accepted focus for industry grief in the aftermath of serious incidents, providing chaplaincy support for the bereaved families, friends and work colleagues, as well as conducting memorial services both onshore and offshore.
"But he was also there for the industry in happier times. His direct manner and willing, 'can-do' approach ensured his popularity across the industry."
'Terrible loss'
Malcolm Webb, chief executive of industry body Oil and Gas UK, said: "First and foremost our thoughts are very much with Andrew's wife Chrissie and their two daughters.
"I think I speak on behalf of the entire oil and gas industry when I say how deeply saddened I am by the news that our very good friend has left us.
"For more than four years, Andrew provided a vital and compassionate focal point for the industry, tirelessly providing pastoral care to all those connected with the industry and their families - throughout times of both happiness and tragedy.
"The personal and professional contribution he has made to the lives of all of us working in this industry is immeasurable. Andrew's passing is a terrible loss and we will all miss him immensely."
Service of thanksgiving
The Reverend John Christie, moderator of the General Assembly of the Church of Scotland, said: "A man of deep faith, he is remembered for both his wisdom and counsel.
"His customary modesty was reflected in the way he responded to news that he was to be awarded the MBE. He saw it as recognising the valuable work the chaplaincy service did and a tribute to those who had perished while he was chaplain.
"Our prayers and thoughts are with all his family at this time as well as those with whom he worked."
A service of thanksgiving will be held at the Kirk of St Nicholas Uniting in Aberdeen at 1430 BST on Saturday, after a private funeral.