Man denies diabetes driving death charge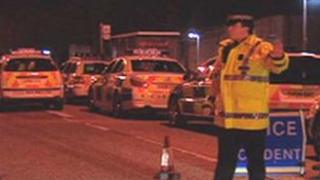 A man has gone on trial accused of causing the death of an 89-year-old woman by driving dangerously when his eyesight was impaired by diabetes.
Van driver George McLeod, 71, denies causing Mary Findlay's death when she was knocked down in Aberdeen in 2008.
Her daughter, Lorraine Clark, told the first day of the trial at the High Court in Perth her mother had been waiting for a bus.
She said she waved to her mother shortly before she was struck.
The auxiliary nurse said her "independent" mother had been standing at the bus stop outside her Provost Rust Drive home on 14 November 2008.
She said: "I was going to put something in the boot of the car. I happened to see my mother still standing at the bus stop. She had been standing there for some time.
"As I shut the boot I heard the impact. As I looked across at the bus stop my mother wasn't there anymore. That's when I knew it was my mother.
"I didn't know what to do, whether to phone for an ambulance, or go over. I called an ambulance then I went across. She was lying in the road."
Motorist George Fraser said: "I saw what I thought was a black bag flying through the air. It was only when the vehicle in front stopped, and I stopped, that I realised it wasn't.
"It was a lady. When he [Mr McLeod] got out of the van he said he didn't see the old lady."
Fellow motorist Alan Thomson told the court he spoke to Mr McLeod.
'Appeared distraught'
He told the jury Mr McLeod said: "I have destroyed somebody's life."
Mr Thomson said: "He appeared distraught."
Mr McLeod, of Hutton Place, Aberdeen, denies causing the death of Mrs Findlay by driving dangerously whilst knowing his eyesight was impaired by diabetes.
The charge alleges he failed to observe her while she was a pedestrian crossing the road and struck her and that she was so severely injured she died later the same day from her injuries.
The trial, before Lord MacKay, continues.