Boat sent to retrieve Greenpeace protesters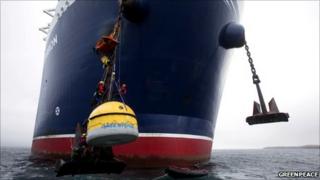 A boat is on its way to retrieve two Greenpeace protesters who are inside a pod dangling from the anchor of a drillship off Shetland.
The pod has been attached to the Stena Carron, which is on contract to the oil firm Chevron, for the last five days.
Chevron was granted an injunction on Friday at the Court of Session in Edinburgh ordering the campaigners to leave on safety grounds.
Greenpeace wanted to stop the ship drilling in the Lagavulin oil field.
Leila Deen, a spokeswoman for the environmentalists, said the activists would be removed from their "survival pod" and put onto a boat when weather conditions allowed.
Speaking from the Greenpeace vessel Esperanza, off the coast of Shetland, she said: "We're planning to end it today. There should be a boat going out this afternoon to bring the pod down.
"We're monitoring the situation and talking to police but it's very windy just now."
Chevron had argued in court that it needed to be able to move the ship away from the coast in rough seas for safety reasons.
Lawful action
The campaigners used boats to reach the 748ft Stena Carron drill ship, anchored a mile off Shetland, and then climbed up the giant links of a chain on Monday.
Greenpeace claimed that the ship was about to sail for a site in the Lagavulin oil field before drilling an exploratory well in 1,640ft of water.
A Chevron spokesman said: "While we respect the right of Greenpeace or anyone else to express their views by peaceful and lawful action, we deplore activities that could put both the crew as well as the protesters at risk.
"Chevron's first priority is always safety. We are confident that our deep water operations are safe. Like Greenpeace, we share the expectation that the energy we all need should be produced safely and with respect for the environment."