Greenpeace to end protest after court ruling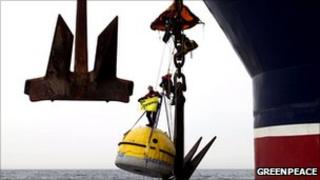 Greenpeace have said they plan to end their protest on board the drillship Stena Carron off Shetland on Saturday.
Campaigners have been attached to the ship, which is on contract to the oil firm Chevron, since Tuesday, saying their action would highlight the dangers of deepwater drilling.
But a petition for Removal and Interdict was granted at the Court of Session on Friday.
It forces the group to come down, or face huge fines or custodial sentences.
The protesters are suspended from a pod on one of the ship's anchor chains and said earlier this week that they planned to stay there for a month.
But Greenpeace campaigner Ben Stewart said they now have to end the protest.
'Legal hammer'
He described the court order as "a legal hammer to stop our protest".
"We really have no option now but to come down because the alternative would be to give Chevron hundreds of thousands of pounds a day of our supporters' money, which is not just not something that we can do," he said.
"But we will continue to bear witness and our protest against deepwater drilling will go on because it's dangerous for the environment around here and for the global climate as well."
Earlier this month, four Greenpeace activists were arrested after boarding a drilling rig off Greenland.
The protests have come after the US ordered a moritorium on deepwater drilling in the wake of the Gulf of Mexico disaster, one of the worst oil spills in history.