Greenpeace advised to leave drilling ship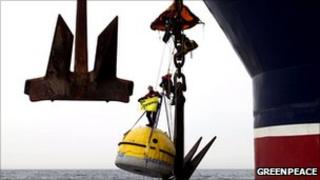 Greenpeace campaigners who attached themselves to a drilling ship off Shetland have been advised to leave by police due to the weather.
The protest group targeted the Stena Carron, operated by Stena Drilling and on contract to Chevron, on Tuesday.
Greenpeace said the action was to highlight deepwater drilling dangers but Chevron condemned the operation.
Northern Constabulary said the protesters were endangering themselves and others in worsening weather.
Greenpeace had earlier attached a survival pod which it was said could allow them to stay for a month.
Chevron has already called on Greenpeace to "immediately stop their actions".
Four protesters were arrested earlier this month after boarding a drilling rig off Greenland.