Greenpeace on drill ship off Shetland 'for a month'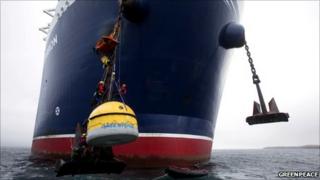 Greenpeace campaigners who attached themselves to a drilling ship off Shetland have said they could stay for a month.
The protest group targeted the Stena Carron, which is operated by Stena Drilling and on contract to Chevron, on Tuesday.
Greenpeace said the action was to highlight deepwater drilling dangers, but Chevron condemned the operation.
Greenpeace said a survival pod had now been attached.
One protester, Leila Deen, said: "An oil spill here would be a disaster and just as difficult to plug as the BP well in the Gulf of Mexico, but the government has so far refused to stop issuing permits for ships like this to drill.
"So that's why we're in this pod, equipped with supplies to last for a month.
"We will continue to block risky oil exploration until the government puts a moratorium on new deep sea drilling."
Chevron earlier called on Greenpeace to "immediately stop their actions".
A spokesperson said: "This kind of action is foolhardy and demonstrates that Greenpeace is willing to put its volunteers at risk to carry out such reckless publicity stunts.
"We fully acknowledge and respect the right of Greenpeace or anyone else to express their views by peaceful and lawful action but deplore activities that could put people at risk."
Northern Constabulary said officers were monitoring the situation and hoped to resolve the incident peacefully.
Four protesters were arrested earlier this month after boarding a drilling rig off Greenland.