Shetland fishing boat returns to harbour after fire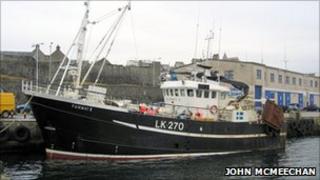 A Shetland fishing boat has returned safely to harbour after fire broke out in its engine room.
The three-strong crew of the Fairway II put out a Mayday call shortly before 2200 BST on Saturday as the vessel was about 40 miles north east of Lerwick.
Lerwick lifeboat and Sumburgh rescue helicopter went to the scene but the crew managed to extinguish the fire. No-one was injured.
It was the second fishing boat fire in the area in two days.
On Friday, a major rescue operation was launched off Shetland after a Norwegian vessel went on fire.
Shetland Coastguard Watch Manager Sandy Wylie said: "This is our second fishing vessel engine room fire in two days and again the skipper did exactly the right thing by alerting us quickly so that we could ensure the safety of everyone on board."