Offshore helicopter advances to be analysed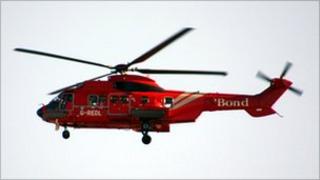 The latest advances in offshore helicopter safety are to be discussed at an aviation seminar.
Delegates will hear about the achievements of the helicopter task group, set up after 16 men died when a Super Puma crashed in April last year.
The event, organised by industry body Oil and Gas UK, is at Aberdeen Exhibition and Conference Centre.
Oil and Gas UK's Robert Paterson said: "This will help inform the industry about future safety developments."
Representatives from the offshore industry and the Air Accidents Investigation Branch (AAIB) will also be attending.
The 14 passengers and two crew on board the Bond helicopter lost their lives on 1 April last year when it came down in the North Sea.
Eight of the victims came from the north east of Scotland, seven from the rest of the UK, and one from Latvia.
The initial report into the crash found that the aircraft suffered a "catastrophic gearbox failure", resulting in "detachment of the main rotor assembly".
The AAIB has said it anticipates that a final report will be published towards the end of 2010.