Shetland humpback whale rescue search called off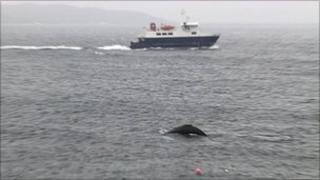 The search for a young humpback whale tangled in lobster ropes off Shetland has been called off.
Teams from Scottish Natural Heritage (SNH) and the Scottish SPCA said there was no sign of the whale or the buoys it was caught up in.
It is believed either the rope snapped and the whale was able to swim free, or it could have become exhausted and drowned.
Small boats had been combing the area all morning.
Members of the Sussex-based British Divers Marine Life Rescue were hoping to cut free the distressed mammal, which was caught up in creel ropes.
Alan Knight from the rescue team earlier said time was running out to free the whale, which was getting increasingly tired and distressed.
The 25ft-long creature's tail was spotted tangled in the ropes attached to buoys off the shore near Vidlin, on the east of the islands.
The marine rescuers were contacted after it became clear that the operation to release the whale would not be simple.
A team drove up to Aberdeen overnight before heading to Shetland.
Mr Knight earlier said: "It seems that the whale is actually dragging lots of creel pots behind it because it has moved from one bay to another.
"My worry is that obviously it is going to get very, very tired dragging these creel pots, and if it drags them into deeper water there is a possibility it could be pulled down and actually drown.
"That is why we have decided to come up overnight so we need to get there as soon as possible so we can release it."
He added: "It is a mammal, it is breathing, although it can stay down for up to half an hour. It is basically in a distressed state, it can also go into a dive reflex which means it will actually stop breathing and that is a very dangerous situation."
Scottish Natural Heritage, the Scottish SPCA and Hillswick Wildlife Sanctuary were all involved in the rescue operation.