Michael Moore says 'no guarantees' over Moray RAF bases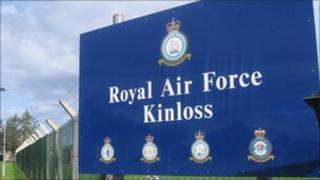 The Scottish Secretary has said he can give "no guarantees" about the future of two Scottish RAF bases.
Michael Moore made the comment after meeting with a delegation from Moray who are pressing for the retention of the bases in Lossiemouth and Kinloss.
Campaigners against the plan have said such a move would be an "economic catastrophe" for the region.
Ministers are expected to make a decision on the bases' future in the coming weeks.
The delegation travelled to Westminster to see Mr Moore after leaks emerging from the UK government's defence spending review suggested there could be major cutbacks in Moray.
In particular, campaigners are worried about the possible scrapping of the Tornado fleet or the new Nimrod surveillance plane project.
A report by Highlands and Islands Enterprise (HIE) published in August said that almost 6,000 people relied on the RAF for jobs and that one in 10 of the area's school pupils were from a service family.
The report also found the stations contributed £160m to the Moray economy.
Mr Moore told BBC Scotland: "There can be no guarantees, there can be no hints or indications at this stage.
"We're getting closer to the final decisions. Ministers are weighing up a whole range of issues founded on the country's national security requirements and not losing sight, unfortunately, of the huge deficit that we're trying to close as well.
"Decisions will be taken in the next few weeks."
After the meeting, members of the cross-party delegation said they were ''heartened'' that the government said social and economic consequences of any decision would be considered.