Bulldog puppy becomes retirement homes blog star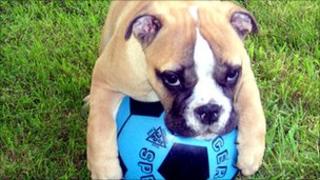 A bulldog puppy has become the star of an online blog after being unveiled as a resident therapy pet for a retirement community.
Three-month-old Humphrey has moved into the Inchmarlo Continuing Care Retirement Community, near Banchory.
Called a therapy assistant (canine) in training, Humphrey's progress now features in an online journal called Diary of a Bulldog.
Staff said he was already proving to be therapeutic for residents.
Humphrey's blog is at http://inchmarlo.wordpress.com/