Merchant navy officer killed in Philippines stabbing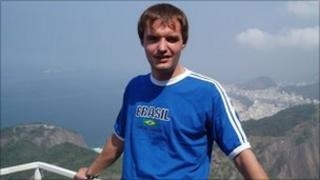 An Aberdeen man has been been stabbed and killed two days after flying to the Philippines.
John MacDonald, 27, an officer in the merchant navy, died on Sunday.
His family described Mr MacDonald's death as a "tragedy" and said his death would leave a gap that would "never be filled".
Mr MacDonald, a second mate, worked originally on North Sea oil rig supply ships but latterly had worked on international contracts.
He is survived by his mother and stepfather, Joanne and Gary Gibson, of Fraserburgh, and three siblings.
In a statement released by Grampian Police, Mr MacDonald's mother said : "He was a much-loved son and brother and was very close to his family.
"He spent a lot of time at sea, but when he was off on leave he spent his holidays first visiting family and friends, then travelling, which he adored.
"His death is a tragedy and he will leave a gap in so many people's lives that will never be filled."