Oil money to fund Aberdeen Maritime Museum revamp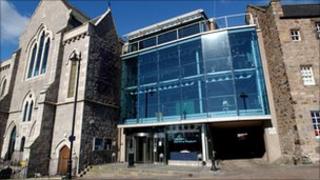 A major redevelopment of Aberdeen Maritime Museum's energy exploration galleries is to go ahead, it has been announced.
Members of industry body Oil and Gas UK members have raised the minimum £360,000 required for the project.
The project aims to allow the exploration of the history of the industry.
Aberdeen City Council said it could see museum visitor numbers rise to more than 100,000 annually.
Oil and Gas UK chief executive Malcolm Webb said: "I am delighted that members have come forward in force to support a project that will significantly improve our ability to convey the wonderful achievements of the industry to the public at large.
"Aberdeen will now have a museum that properly reflects the fascinating technology and working practices of our oil and gas industry."
Aberdeen City Council's museums and galleries head of collections, John Edwards, added: "We are thrilled that industry has stepped forward so willingly with this support, which will enable us to reinvigorate the museum's energy exploration galleries, bringing them right up-to-date.
"The story of North Sea oil and gas is at the heart of the story of Aberdeen and we are very pleased to be in a position to tell it in a new and exciting way."