Police plea over theft of 'irreplaceable' RNLI watch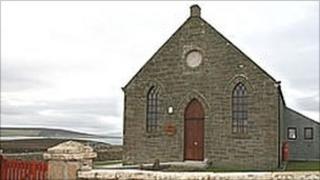 Police have appealed for information after an "irreplaceable" watch was stolen from the heritage centre on the Orkney island of Eday.
The gold watch was given to the centre by Alistair Scott who received it from the RNLI for a courageous 1967 rescue he was involved in.
Two boys were rescued from a boat shortly before it sank thanks to a lifeboat crew.
Northern Constabulary said the engraved watch was of "great sentimental value".
It has a white face, with numbers rather than Roman numerals, and a brown leather strap.
The rescue had taken place on 6 August 1967.
Swept away
Two boys were out on a boat when a rope slipped and went into the propeller, damaging it.
Locals saw they were in trouble in rough waters and raised the alarm, the lifeboat was dispatched, and the crew managed to get the two boys on board.
Within five minutes of the rescue the boat was swept away and sank.
Northern Constabulary urged anyone offered a watch matching the description to contact them.