Greenpeace Cairn rig activists arrested off Greenland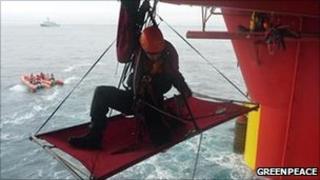 Four Greenpeace activists have been arrested after giving up their occupation of a Scottish company's drilling rig off Greenland.
The environmental group boarded the rig, operated on behalf of Edinburgh-based Cairn Energy, earlier this week.
Greenpeace said they gave up after the weather changed for the worse.
A Cairn spokesman told the BBC Scotland news website operations had started again on the Stena Don after the Greenpeace action ended.
The spokesman added: "The actions taken by Greenpeace remain a matter for the Greenlandic authorities."
Police on Greenland earlier said the activists would face prosecution for their actions.
After the end of the action, Greenpeace said lawyers had threatened the UK government with legal action over deep sea drilling in British waters.
Cairn announced last week it had discovered gas off the coast of Greenland.
Greenpeace had earlier raised concerns, in the wake of BP's Gulf of Mexico oil spill disaster.
However Cairn earlier said it was "fully committed" to conducting its Greenland exploration activities in line with international standards.
A spokeswoman for the Department of Energy and Climate Change added: "The UK has an extremely rigorous safety and environmental regime."