Greenpeace board Cairn drilling rig off Greenland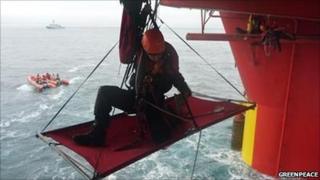 Greenpeace has boarded a Scottish company's drilling rig off Greenland and forced work to stop.
The environmental campaigners said the rig, operated on behalf of Edinburgh-based Cairn Energy, had been boarded by four members.
Greenpeace said the climbers had enough supplies to occupy hanging tents for several days.
A statement from Cairn said the actions taken by Greenpeace were primarily a matter for the Greenland authorities.
Cairn - which had announced last week it had discovered gas off the coast of Greenland - said security was its "number one priority".
The Greenlandic government said it had been notified of the "illegal" Greenpeace action, and that drilling had been stopped.
And police spokesman Morten Nielsen, speaking from Greenland, said that anyone breaking the law would be prosecuted.
Greenpeace had earlier raised concerns, in the wake of BP's Gulf of Mexico oil spill disaster.
However Cairn earlier said it was "fully committed" to conducting its Greenland exploration activities in line with international standards.