Mother 'shocked' by Blue Crusader boat wreckage find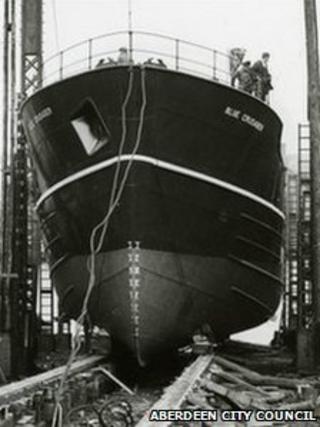 The mother of a teenage fisherman lost at sea 45 years ago says she is shocked by the discovery of what could be the wreckage of his boat.
A team of divers has found what they believe to be the wreck of Aberdeen trawler the Blue Crusader.
The boat and its 13 crew went down off the east coast of Orkney in a storm on 13 January 1965.
Among those on board was 15-year-old Colin Kay. His mother Georgina say she is "flabbergasted" by the discovery.
Divers who scanned the wreck said they had little doubt it was that of the Blue Crusader.
The boat, built in Aberdeen in 1958, was lost in a force 12 gale off North Ronaldsay.
An extensive search found no trace of the vessel or its crew.
But now a Scots dive team believe it has found the Blue Crusader sitting upright in 200ft of water.
It is the same dive team which in 2001 discovered the wreck of another trawler - the Peterhead-registered Trident.
The crew on the Blue Crusader were Fred Baker; Thomas Slater; John Ronald; William Anderson; Arthur Duncan; William Reid; Hugh McKenzie; Alex Cruikshank; Alfred Copeland Jnr; Arthur Forman; David Stanger; Alex Grubb and Colin Kay.
Mrs Kay told BBC Radio Scotland's Good Morning Scotland programme: "I was just flabbergasted to think after all these years that this has happened. Why didn't they put somebody down before to try to find it?
"Forty-five years is a long, long time and you've given up hope that anything could happen like this."
She said for three years after her son was lost she did not lock her door in case there was any chance he could turn up.
She added: "But time sort of heals a bit and then all this has brought it back again, I can't sleep, I cry, but I suppose it's just normal."